Learn how to send out partial shipments in Jazva.
Contents:
Occasionally, you may need to send out partial shipments for an order. Common examples include having backorders, or a buyer's request to have the order delivered in staggered shipments.
Backorders
An order is placed on "Backorder" when you do not have the stocks to fulfill it completely. Jazva lets you fulfill the order partially.
Open an existing order with the status of "Backorder"

From the

Invoices

section, click the

invoice number.

Click

Release

. The order will now have a "Pending" status.

Print the order's documents by clicking the

Document

icon.

Return to the previous page by clicking the

Quick Links icon > Summary

.

From the Invoices section, click

Ship

to open the shipment page.

In the parcel to be used, enter the amount Picked and ship it out as needed.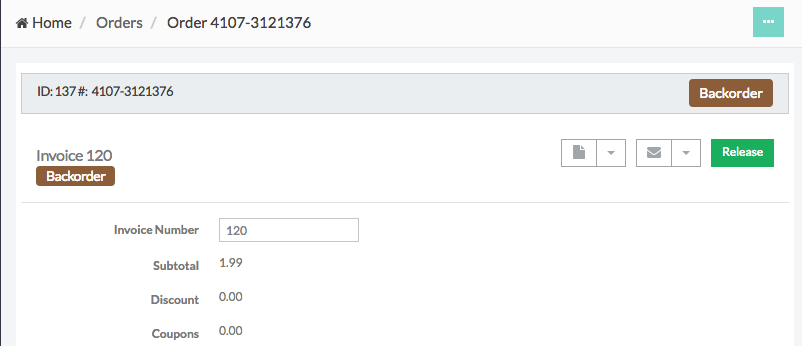 The parcel with the partial set of products will now be shipped, and the order will revert to a "Backorder" status, with only the remaining unfulfilled items.
Once stocks are replenished, you can allocate them to backorders manually. Backorders are also automatically allocated with stock during the nightly update if no action is taken. To learn more about this process, please visit How to Allocate Stock to Backorders.
Staggered Shipments
On occasion, buyers may request that a part of an order be sent first and delay the remaining items, perhaps until they are ready to receive them.
Open the order.

From the 

Invoices section, click the Document icon to print the order's documents.

Click

Ship

to open the shipment page.

Click

Add Parcels

.

Enter the appropriate packaging details for the parcel.

On the bottom parcel, click the

Gear

icon and select

Remove from Group

.

On the original parcel, click Show Items and then the Chain

icon in-line with each item that you will fulfill.

Under

Move to Parcel

, select the number of the new parcel.

Enter the quantity you will be shipping out to transfer it to the new parcel, and click

Move

.

Repeat steps 8 and 9 as needed until you complete the parcel with the items you will be shipping out.

Ship out the new parcel as needed.
The order will remain with a "Processing" status. Once you are ready to ship out the remaining items, you may continue shipping them out in the original parcel or in additional ones if needed. To learn more about the shipping process, please visit How to Pick Pack and Ship Orders.