Welcome to Jazva! Learn how to navigate through Jazva so you can get started on setting up the system.
Contents
The Main Menu
The main menu gives you access to all the modules in Jazva and appears as a left sidebar on all pages within the system. You can hide this menu by clicking on the three bar button on the top left corner.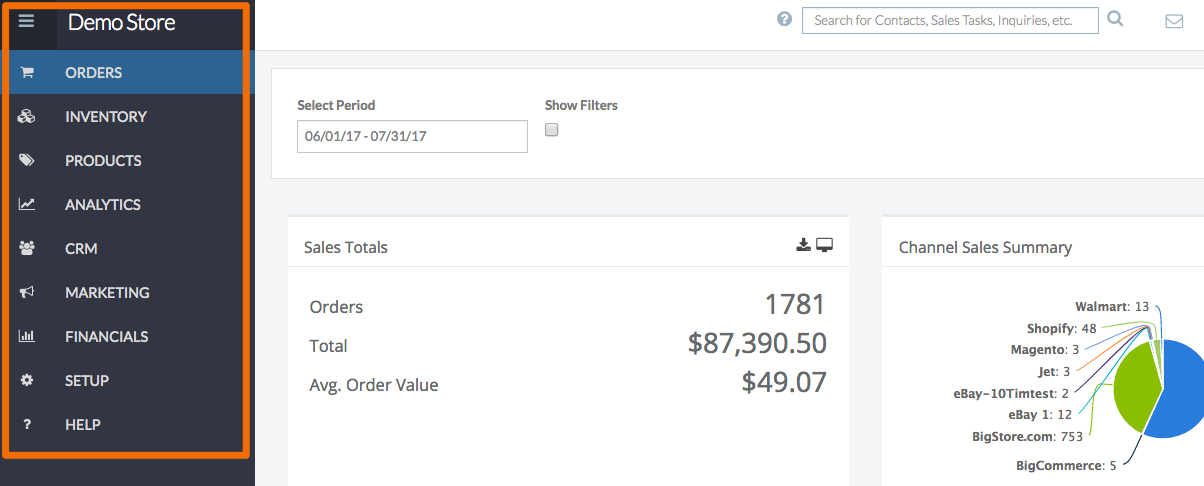 This menu gives you access to the various features and options of Jazva, each represented by an icon or tab. These modules include:
Orders

- view orders, place new orders, and process returns.

Inventory

- manage inventory, vendors, purchase orders, invoices and more.

Products

- add, edit or import your products and listings.

Analytics - access your shipping and sales dashboards, or create custom reports.
CRM

- manage your contacts and customers.

Marketing

- create coupons, gift certificates and advertising campaigns.

Financials

- manage accounting and financial reports.

Setup

- configure your system and customize Jazva with advanced settings.

Help

- link to the Help Center knowledge base.
The Admin Console
The admin console is the drop-down panel at the top right corner of the page. Simply click on your account name and the drop-down menu will appear.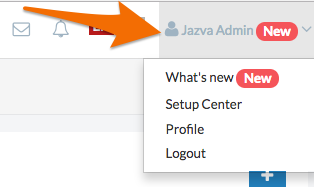 What's new

- This section will list the latest updates we've made to the software. A "New" notification will appear if new release notes have been posted.

Setup Center

- this will link you to a page that will help you set up the whole system on your own. It features specific sections and links to help you set up Jazva step-by-step.

Profile

- here you can update your login information and emails. You can also set up alerts in this section.

Logout

- Click this to exit Jazva
Global Search Bar
On the top header, you will see a search bar where you can search for contacts, orders and products. Simply type your query in the box and hit enter/return or click the magnifying glass to run the search.

You can also narrow down your search by using prefixes.
For example, to search for Product ID 154, simply enter "p 154" and Product ID 154 will appear.
Here is a list of prefixes you can use (also accessible from the ? icon).
| | | |
| --- | --- | --- |
| i - item id | in - invoice number | l - location name |
| o - order info | oi - order id | p - product id |
| pp - PayPal Transaction Number | po - purchase order | r - RMA |
| s - shipment id | sn - Serial Number | u - user info |
| v- various product info | vid - find product by product vid | vn - vendor |
Miscellaneous System Features

Conversations Inbox - the mail icon next to alerts, where you can check your Inbox, Unread messages, and other conversations related to Orders, Contacts and Leads.
Alerts - the bell icon next to the admin console will show any alerts and reminders you have set up.
EN / ZH - Toggle between English and Chinese language options.
Help Center- on the bottom right corner, you can see a yellow button labeled "Help." This will bring up an interactive help wizard that will link you to articles in our existing help desk knowledge base.