Learn how to apply price tiers to your products in bulk using the Product Import Wizard. This is useful when you want to create special deals for buying in bulk or specific pricing for different tiers, such as wholesale buyers or membership discounts.
To apply price tiers to multiple products at once, you will need to configure a spreadsheet with at least two columns, one for the Price Tier and another column for Jazva to map the price tier to an item, such as Item ID or SKU.
The price tier column should be formatted as follows:
[tiername,quantity,price,discount%]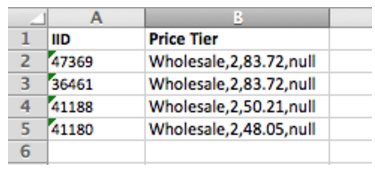 In the above example, importing this spreadsheet would apply a price tier to item ID 41188 that would allow wholesale buyers to purchase it at a unit price of $50.21 when buying two or more. "Null" is in place of discount% because it is not needed.
Once configured, either copy/paste the file or upload it using the Product Import Wizard and map the column to Price Tags.