Learn how to place orders manually, allowing you to process phone and walk-in sales.
Please note: this update is currently only available to select systems. Please contact Jazva support to enable the new order entry in your system.
Contents:
Filling Out the Order Details
From the main menu, go to

Orders > Order Entry

and select

Place New Order

.

 
The default store will be selected. Click on the drop-down menu to change sales channels.

From the

Find Products

field, type in a product name or SKU and enter an item quantity. Click

Add Items

.

Note: You can also scan items when used as POS.
After adding the items to the order, you can adjust pricing, quantities and apply discounts as needed. Click

+Options

to include

Giftwrapping

or other

Add-ons

.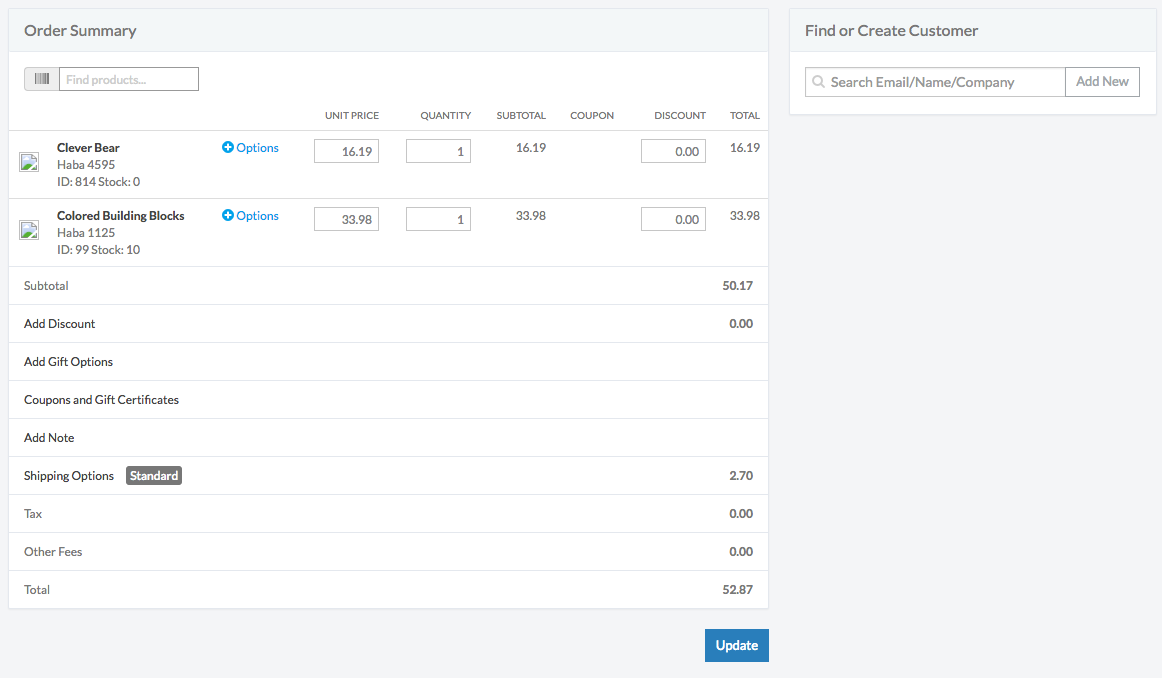 Add Discount

- click to add an additional manual discount or store credit.

Add Gift Options

- select if this item will be a gift.

Coupons and Gift Certificates

- enter a code if applicable.

Add Note

- include an optional note.

Shipping Options

- adjust if needed.

Override Shipping

allows you to charge any specified amount to the customer for shipping.

Ship To Multiple Addresses

will allow you to set additional addresses other than the customer's primary shipping address for items which are to be shipped to different address. Edit the addresses in the Order Summary as needed.
Entering Customer and Payment Information
From the Find or Create Customer section, you can search for an existing customer email, name or company. Alternatively, you can add a new customer, and it will be added to your CRM.

Fill out the Shipping Address and Billing Address.

Complete the Order Information section if needed:
PO# (optional)

- the customer's PO number.

Heard from (optional)

- where the customer found out about your store/products.
Click

Add Payment

and fill out the Payment Information form.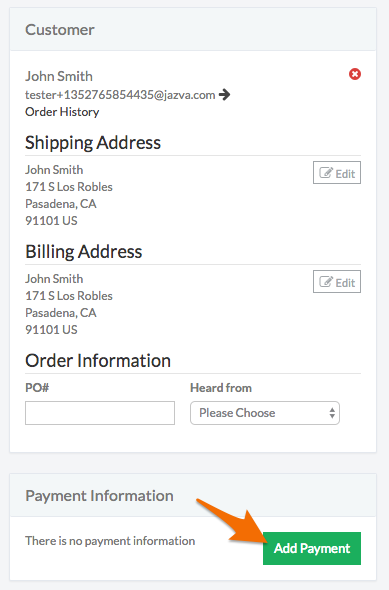 Submitting the Order
Once you have entered the necessary order details, the Place Order button will appear.
Click Place Order to continue shipping the order.
To save the order as a quote, click the drop-down and select the Save as Quote. You can reopen "quotes" and place the order at later time to reserve stock and finalize the order. You can also send the quote directly  to the customer by selecting Save as Quote and Email.

Saving an Order Draft
When placing a new order, you can also save it as a draft in Jazva. Order drafts can then be loaded from the main menu and resumed for order entry.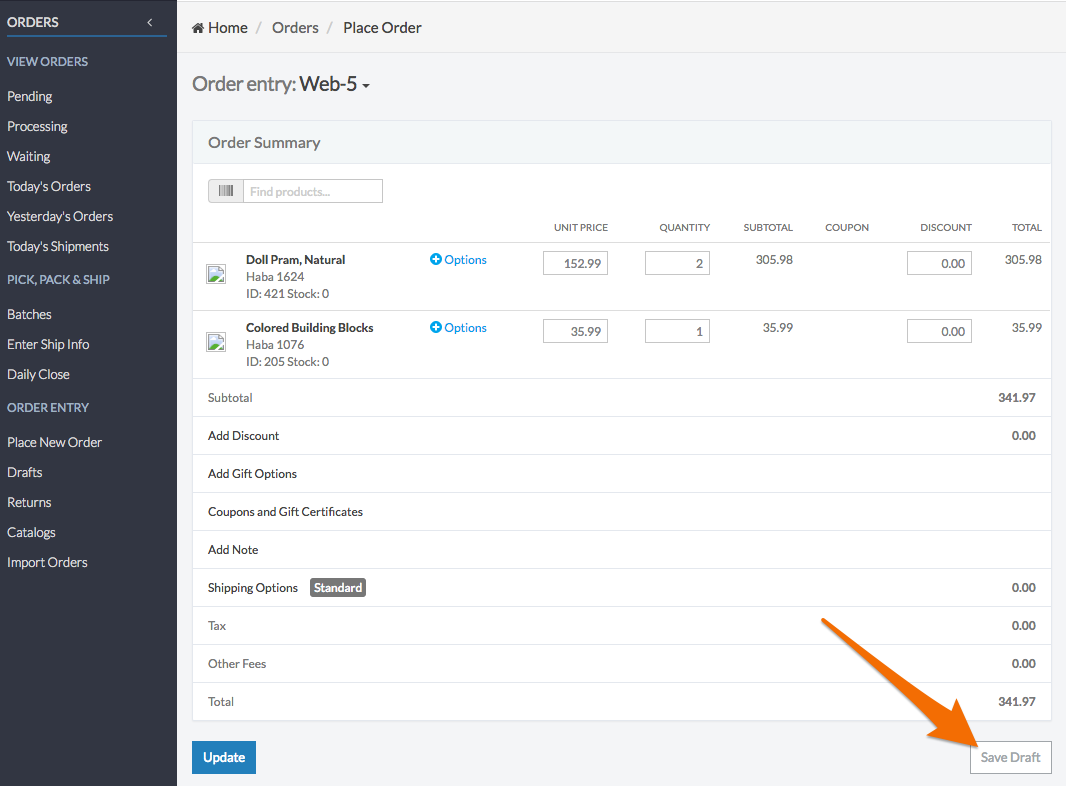 When placing a new order, click

Save Draft

to create a record of the order.

For additional changes to the draft, click

Update

.
Drafts can be accessed from the main menu > Order Entry > Drafts, or from the order entry screen and selecting Actions > View All Drafts.